"I've got a natural glow, which I've never seen before"
Meet Sandy, who shares how she uses 47 Skin with other products and makes it work for her, to give her that beautiful, dewy look
Hi I'm Sandy, and the photo below is of me wearing no make-up in my bathroom, which I took after 2 weeks on my new skincare routine.
I wasn't sure 47 Skin would work for me, as I was worried using it on top of my current products would be too much for my skin, but I've found that using them all together actually enhances the effect.
I've always struggled with blemishes and dry patches and I never would have thought my skin could look this naturally glowing and dewy.
It also feels silky smooth and soft.
Here's what I've done for the past 2 weeks (and will continue to do):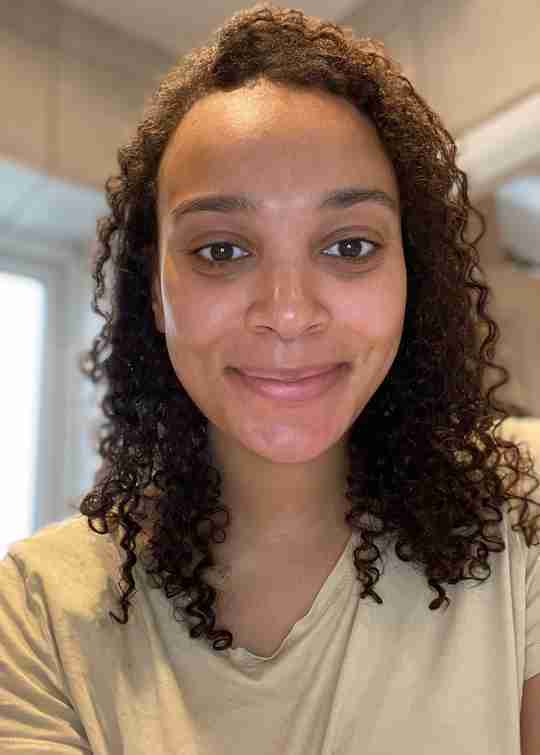 Twice a day, I wet my face and use 2 pumps of Everyday Cleanser. I massage this into my face for a full minute, before washing it off with cold water. In the morning, I do this twice.
It's always been difficult for me to find a cleanser that leaves my skin feeling clean, without drying it out so I'm really happy I've actually found one that works for me.

After, I use a toner and sweep that over my face to make sure I get rid of all the dead skin cells. I also use an under eye cream to help reduce any puffiness and firm up any fine lines. I always dab this on, rather than rubbing.
Then, I apply Anti-Blemish & Scar Repair Serum to my face and neck, massaging it in well. I was worried that putting on moisturiser after would be too greasy on my skin, but it hasn't been at all. The serum sinks beautifully into my skin so I never feel like it's too much.
I massage a thick anti-wrinkle night cream into my face and neck, every evening before bed. I find that a night cream works particularly well after using the serum - it must be something in the Silver Chitoderm, which helps the anti-wrinkle cream sink into your pores, because I always wake up with baby soft skin!
Another one of my favourite things to do, which brightens up my skin is a Blue Clay Mask. I apply a thick layer, usually once a week and let it dry for 15 minutes, while I run my bath.
I then pop a podcast on, sometimes grab a cheeky glass of wine and wash my mask off in the bath when I'm ready. It gives my skin an instant boost every time.
After 2 weeks of doing this routine, I feel like I've got a fresh layer of skin! My skin is softer, glowing and I haven't had any blemishes. 
I've looked into it and Silver Chitoderm actually regenerates your skin cells, so it makes sense why it feels like this!
I will definitely be keeping up this routine.
Check out our most popular content
Join the 47 CLUB for new videos, blogs and discount codes and start feeling great about your skin!