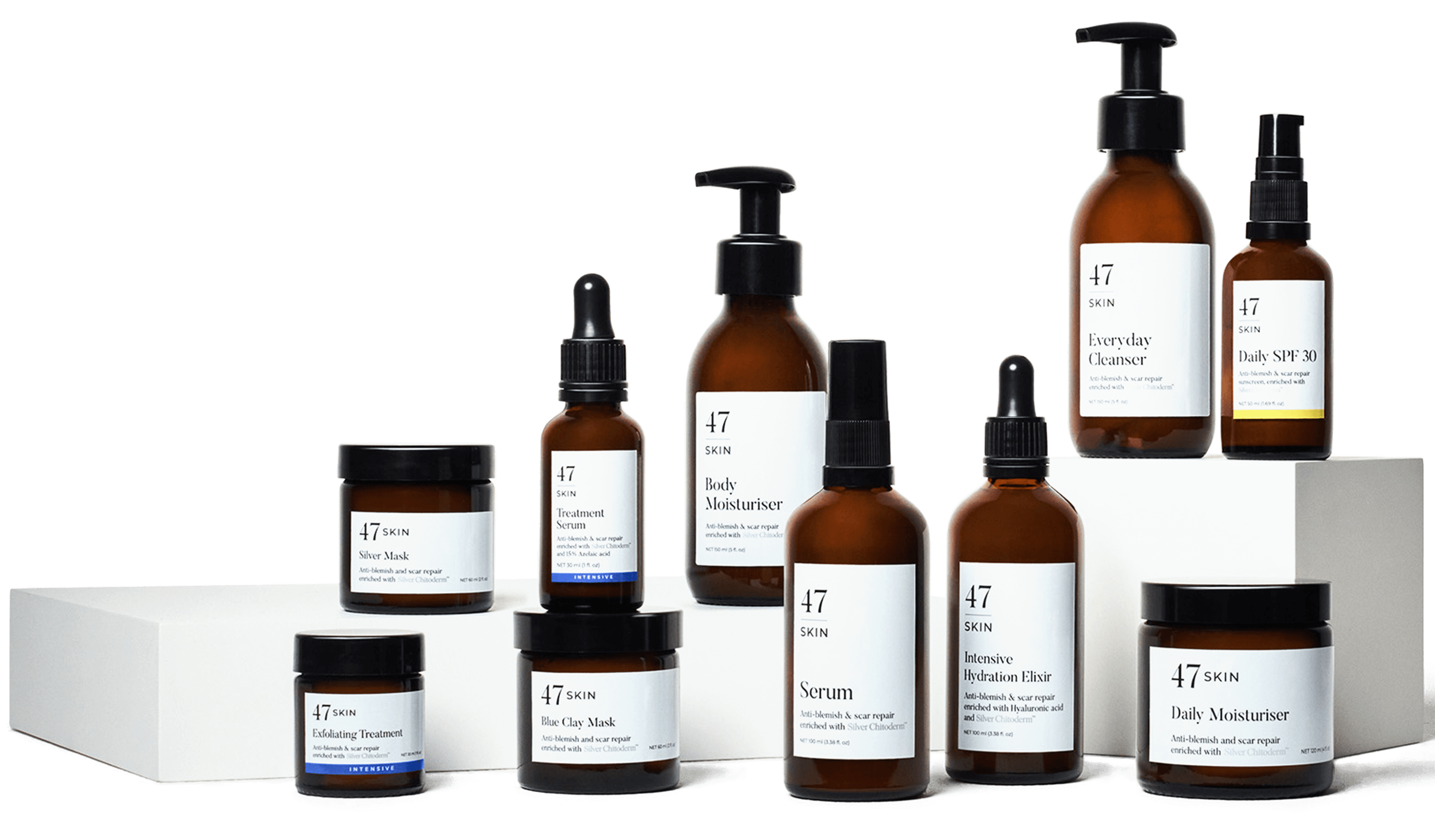 Real skin, real results,
genuinely useful rewards.
The Better Skin Club gives you the life-changing skincare you love for less.
Join and we'll show our appreciation with savings on products, events in our community, talks and all kinds of surprises.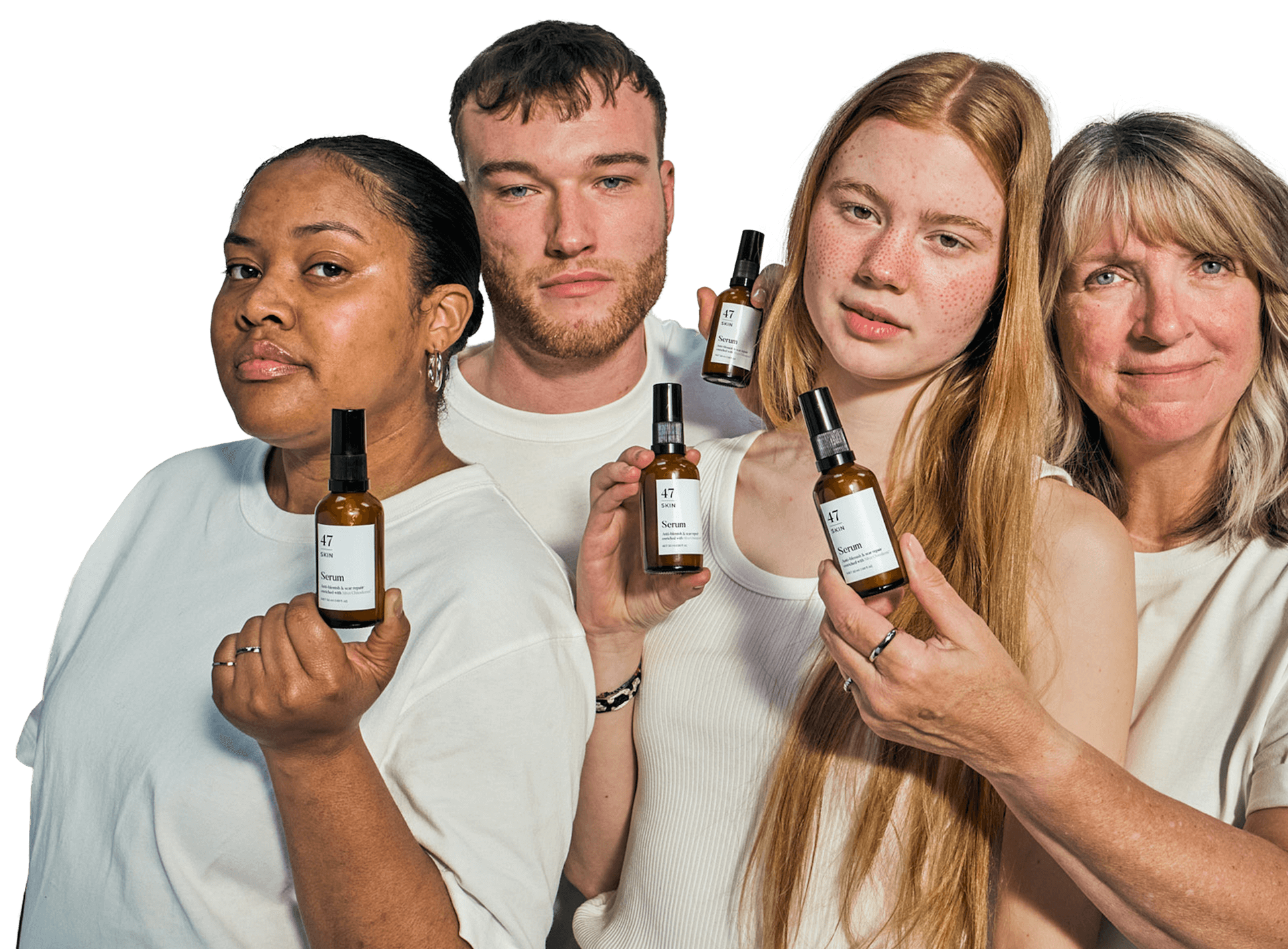 Why we made the club.
(Hint: it's for you).
We want to give a little something back to the people who've been with us and loved our skincare.
We also want as many people to try our products and transform their skin as possible.
That's why we're giving you these rewards and the chance to join a community of people who've been through what you've been through -- who are united against bad skin.
The Better Skin Club is our way of showing some appreciation to the people who use and love our skincare the most. When you become a member, you'll earn points every time you buy anything from 47 Skin, which you can put towards getting more of our skin-life-and-confidence-changing skincare for less. As a member, you also get exclusive discounts, invites to community events and talks when they happen, and all kinds of other surprises.
Anyone. Just create an account (this usually takes about five minutes)  and you're in. You'll earn points straight away just for doing that.
In The Better Skin Club, the longer you've been one of our regular customers, the more we give you back in appreciation. The way we see it, it's the least we can do, if you need our products to help keep bad skin away:

Year One
Regular customers get 5 points per £1 spent. Save 200 points, and you'll get 5% off when you buy. And you get 200 points on your birthday.

Year Two
Regular customers get 6 points per £1 spent.Save 400 points, and you'll get 10% off your purchase.And you get 400 points on your birthday.

Year Three
Regular customers get 7 points per £1 spent.Save 600 points and you'll get 15% off your purchase.And you get 600 points on your birthday.
When we say regular customers, we're talking about anyone who buys our products consistently (adding up to spending over £100 a year).
Not necessarily. If you're using our products a lot, we won't make you wait to get rewarded. The moment you spend over £100 in a year, we'll move you up to the year two rewards levels automatically. Same goes if you spend over £200 in a year – you'll go straight up to the year three rewards level to show our appreciation.
You earn points every time you buy, but there are all kinds of other ways to earn points too. You can: 

Sign up to our mailing list (50 points)
Write a product review (20 points)
Like us on Facebook (10 points)
Follow us on Instagram (10 points)
When you send a referral link to someone, they'll get £5 off any order over £40. If they don't cancel their order, we'll put enough points into your account to give you £5 off your next order as a little thank you.
Unfortunately, if they cancel their order, your points get cancelled too. But if they return their order because it wasn't right for their skin (it does happen) you'll still get your points. We appreciate you spreading the word and wouldn't take those points away. They'll normally arrive in your account about seven days after your friend's order.
First, log in to your Better Skin Club account on our site, so we know it's you. Once you've done that, your points will be shown in the top bar of every single page.
Log into your account and you'll see a tab at the top of every page which says 'Redeem points'. Click on it, and you'll see the discounts you can turn your points into. If you've got enough points, you can redeem them then and there for savings.
No. Whenever you buy from us, we'll always reward you with points.
They're the status of your points.

Approved means you've earned them, they're yours and you can redeem them right away.

Pending means our team needs to verify the points before you can redeem them. This is usually for things like purchases and referrals.

Cancelled means you've cancelled a purchase, and the points won't be added to your account.
No. You've earned them, so they're yours forever.
You can't use points alongside another discount on the same purchase. But you will still earn points on everything you buy – including anything bought with points or a discount.
Your points will only ever go down if you cancel or return a purchase, and someone you refer cancels a purchase.