"At 47 Skin, we're all about real people, real skin and real results. Our bestselling serum has worked for thousands of people and we think it will work for you too."
Available on our website, our Anti-blemish & Scar Repair Serum is super easy to use – just apply it twice a day after cleansing.
Our Anti-blemish & Scar Repair range is oil-free and made from our unique formula, Silver Chitoderm. The Silver acts as a protective shield, it naturally kills acne causing bacteria and reduces inflammation. While the Chitoderm rapidly regenerates your skin cells to leave it brighter & glowing, and to reduce the production of melanin (the pigment that causes scarring and discolouration). This is extremely effective for helping to fade scars and hyperpigmentation.
This product is so unique. It does all of this, while leaving your skin smooth and hydrated, with no oils.
"One of the products I recommend to my patients is 47 Skin Anti-blemish & Scar Repair Serum. What makes this serum so unique is the way it keeps skin smooth and hydrated, unlike many other acne treatments." Dr Chopra, Dermatologist, The London Dermatology Centre.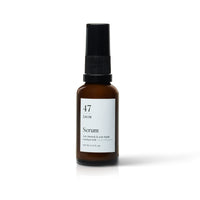 £29.00
#1 Best Seller: Anti-Blemish & Scar Repair Serum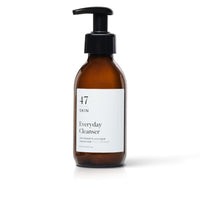 £29.00
Anti-Blemish & Scar Repair Everyday Cleanser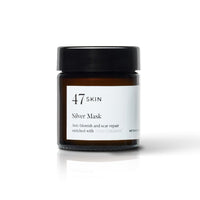 £24.00
Anti-Blemish and Scar Repair Intensive Treatment Silver Mask
What women are saying about us...
"I have literally tried every lotion and potion known to man and this is the only product which gives consistent results. I've been using it for a couple of months now and my skin has honestly never looked so good!" - Karen
Try our best-selling serum and start feeling more confident about your skin!
47 Skin is made for those who care about the environment
We believe anything that's made these days, needs to put the environment first. We know it's important to you and it's important to us. That's why all our 47 Skin products are made and packaged sustainably using eco-friendly ingredients.

Our products come in 100% recyclable glass containers instead of plastic, as well as recyclable, cardboard packaging.

We use all natural ingredients where possible and always avoid harsh chemicals.
Our products are all free from parabens, sulphates and mineral oils, and are never tested on animals.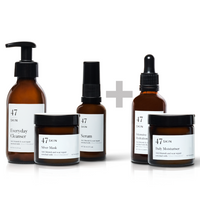 £141.30
Complete Daily Regime Bundle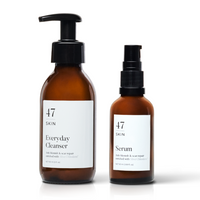 £66.60
Cleanse & Protect Bundle
Real people. Real skin. Real results.
Join the 47 Club for new videos, skin positivity tips, discount codes, and more!
At a glance
Manufactured in
Britain

Dermatologist
recommended

100% no risk
money back guarantee

3,000+ 5 star
reviews

No animal
testing ever

Natural, safe
ingredients