Your Xmas Skin Care Routine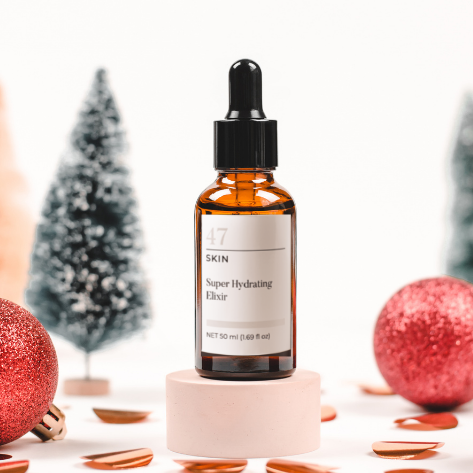 It may be 'the most wonderful time of the year' but all these festivities can take their toll on your skin.
The combination of feasting on festive foods, having the central heating on full blast and pouring yourself one too many celebratory drinks, can be a perfect recipe for breakouts!
So, we've put together a skin care routine to make sure you're feeling super skin confident this Christmas weekend.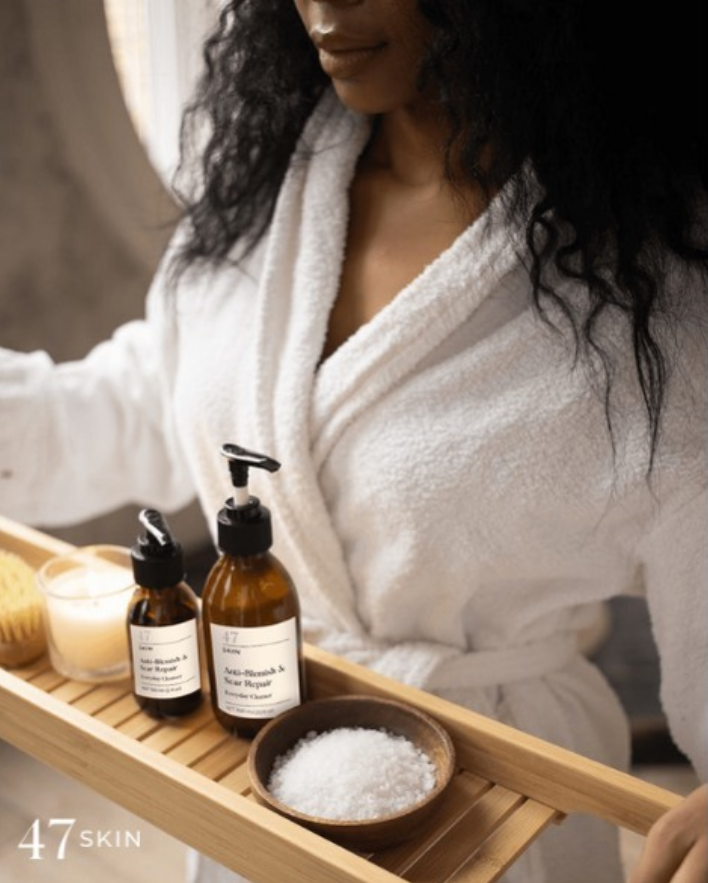 Whatever you're up to today - entertaining family, wrapping presents or relaxing, set aside some time to pamper yourself before the big day tomorrow.
Step 1 – Set the mood. Whether it's candles, spa music and a hot bath or some festive tunes blaring in the shower, or your favourite podcast playing next to the sink – set the feel-good tone before you start your skin care.
Step 2 – Prep your skin. Remove any make-up and cleanse with our Everyday Cleanser – massage it into your face and neck in circular motions for 1-2 minutes and remove with a wet washcloth and water.
Step 3 – Mask up. Apply your Silver Intensive Mask and let it dry fully for 30 minutes (the perfect time to wrap some last-minute presents!). This will combat any breakouts and leave your skin brighter and silky smooth. Peel off when it's completely dry (use the palm of your hands to rub the edges for super quick removal).
Step 4 – Massage in your Anti-blemish and Scar Repair Serum to help protect your skin against any overnight breakouts. Follow with night cream or moisturiser.
Step 5 – Get an early night (if you can!) – Remember your skin cells regenerate over night so if you want to wake up feeling refreshed with glowing skin, make sure you get to bed at a reasonable hour!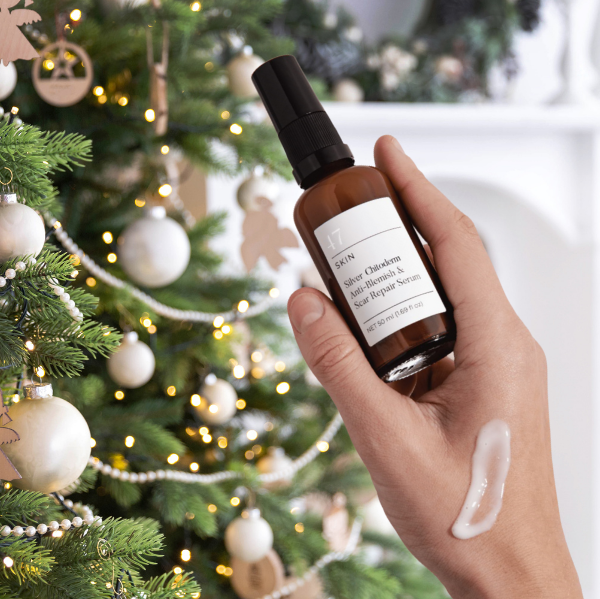 Whatever you're up to this Christmas day, you probably don't have much time to be doing skin care. Everyone has their own traditions, whether you're busy seeing family, cooking, opening presents or just spending time with loved ones, you need a quick routine that will make you feel your best but doesn't take forever!
So, here's what to do:
Step 1 – Cleanse with our Everyday Cleanser the first time you visit the bathroom in the morning (so you don't get distracted and forget!)This will also help wake you up and refresh your skin (particularly helpful if you're up at the crack of dawn opening stockings!)
Step 2 – Drink a large glass of water as soon as you wake up. For most of us, Christmas day is filled with salty foods and perhaps a few (or sometimes more than a few) glasses of wine, which can really dehydrate your skin. It's easy to forget to drink any water at all (especially if you keep being offered top ups) so start the morning with a large glass of water and try and remember to have water throughout the day (you'll thank yourself on boxing day!)
Step 3 – Apply your Anti-blemish & Scar Repair Serum and you're good to go, as this also hydrates your skin as well as reducing blemishes. Follow with moisturiser if you feel like you need a little extra.
*Make sure you don't forget to remove any make-up before you go to bed! Even if you leave your eye make-up – make sure you take off any foundation with a cleanser/ face wash.
Boxing day
(or whichever day you're having some well-deserved time off!)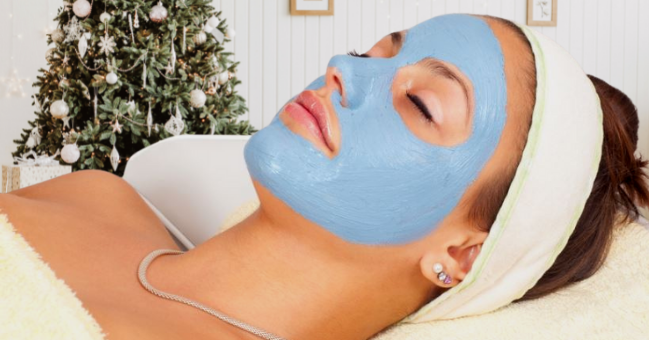 All these celebrations can take its toll on your skin so it's important to give it some much needed attention today.
Step 1 – Drink 2 glasses of water, first thing. Your skin is likely to be very thirsty this morning so make sure you give it (and the rest of your body) a good drink this morning. Fill up a water bottle to keep hydrated throughout the day.
Step 2 - Double cleanse with your Everyday Cleanser, to make sure you remove any leftover make-up and blemish causing bacteria. Enjoy the refreshing spa scent to help wake you up if you're feeling a little groggy this morning!
Step 3 – Steam your face over a bowl of hot water for 5-10 minutes. Mix a pump of your Everyday Cleanser into the bowl to make it extra refreshing. This will open your pores and help remove any dirt/ bacteria – it will also help your Blue Clay Mask target deeper into your skin. Rinse your face with warm water after.
Step 4 – Apply your Blue Clay Mask. This will detoxify and revitalise tired skin, drawing out impurities as it dries, so it's the perfect post-Christmas face mask. Let it dry for 10-15 minutes and rinse off with warm water.
Step 5 – Massage in 2-3 drops of your Super Hydrating Elixir. This contains HA, the ultimate natural ingredient for hydrating your skin. It will bring water to the surface of your skin, ideal if it's feeling dry.
Step 6 – Massage in your serum to fight blemishes and help fade any scars.
Step 7 - Follow with your 47 Skin Moisturiser to nourish and hydrate your skin, as well as help combat blemishes.
Remember it's ok to have blemishes this Christmas!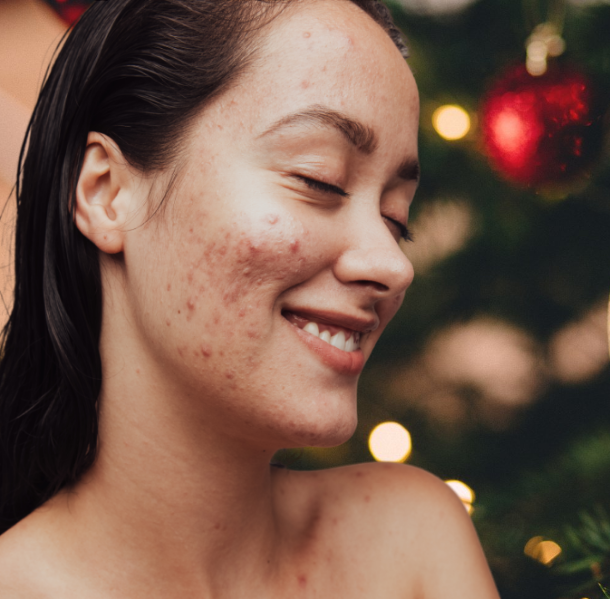 Whatever your skin is doing this weekend (and skin has an annoying habit of misbehaving on special occasions), remember that no-one has flawless skin, so don't beat yourself up for imperfections.
Follow this routine to help you feel confident and remember that you are more beautiful than you think (and that's a fact!).

Check out our most popular content
Join the 47 CLUB for new videos, blogs and discount codes and start feeling great about your skin!