Alcohol & Our Skin:
Everything You Need to Know
Many people's idea of unwinding after a long hard day can be a couple of glasses of wine, or sometimes even more. Some may even opt for a cheeky shot before going to a social outing, to calm the nerves. But what does regular and excessive alcohol consumption do to our skin? If you haven't guessed already, the answers aren't that great.
People may drink for a variety of reasons. While some may be social drinkers, and only drink to fit in at gatherings with friends and family, others may opt to be solitary drinkers, and while some may moderately use the short-term effects of alcohol to relax and deal with stress, others may regularly use it to the extreme as an unhealthy way to numb themselves. Regardless of reason, even one unit of alcohol can affect the body in several ways, including having a visible and textural impact on our skin. 
Here are some of the ways in which alcohol can impact our skin's health and appearance…
Dehydration causing increased dryness and wrinkling
Because alcohol is a diuretic, every time we consume it, we dehydrate our bodies and furthermore our skin. This can contribute to a loss of elasticity in the skin's texture, and increase the likelihood of developing premature wrinkles and sagging skin. 
Dehydration can also cause the skin's pores to dilate, potentially leading to breakouts of whiteheads and blackheads. On top of this, dehydration has negative effects on the hair, our mood levels, and our overall health, so as well as limiting our alcohol intake, it's also vital to keep our fluid levels topped up by remembering to drink water before and after drinking, as well as potentially between drinks. 
Bloat and puffiness
The dehydrating effects of alcohol can also cause bloating puffiness in the face and stomach. The high sugar content in most alcohols and the irritation caused to the gastrointestinal tract can also contribute to this bloating.
Alcohol has inflammatory effects on the body, which can increase the likelihood of swelling, as it interferes with normal liver function. Long-term consequences of regularly drinking to excess can cause further problems for the liver, such as liver diseases or chronic liver inflammation/scarring.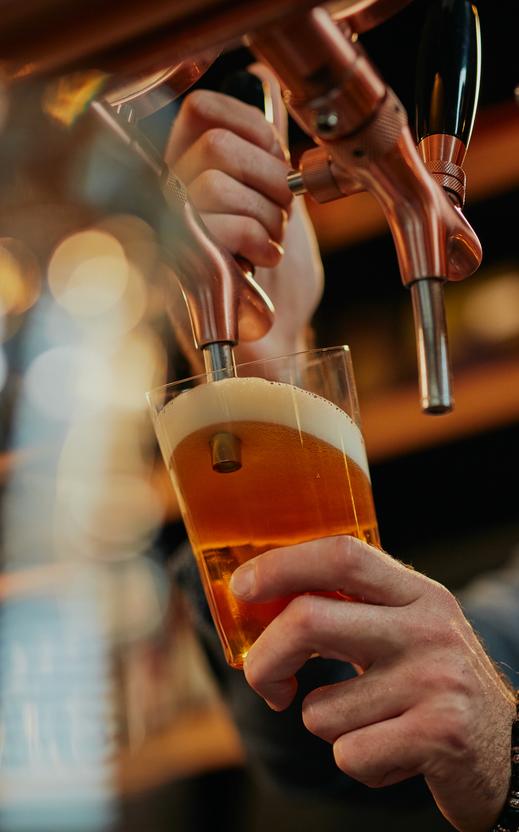 Flare ups of redness/rosacea, and broken blood vessels
Rosacea is a skin condition that usually affects the face, and is more common in women and those with lighter skin tones. Symptoms of rosacea include a recurring redness across the cheeks and, forehead, nose and chin, broken and dilated blood vessels, an oversensitivity to water and certain skincare products, dry skin, swelling and puffiness around the eyes, increased thickness in skin texture, usually found on the nose, and possibly small red or pink bumps developing across the face. 
Though the exact cause of rosacea is not totally clear, alcohol is consistently named as a common trigger of the condition. According to HSE, 90% of people who cut back on alcohol report a significant reduction in flare-ups.
Loss of essential nutrients
Alcohol's diuretic properties not only drains our bodies of water, but also potential nutrients, by inhibiting the absorption of nutrients we get from other parts of our lifestyle and diet. Examples of this is vitamin A (which, due aids healing, prevents breakouts, and helps keep the skin moisturised) vitamin B1 (which helps reduce redness and inflammation, as well as preventing fine lines and wrinkles), and vitamin B12 (which is vital for cell reproduction). Being deficient in these nutrients may visibly detriment our skin health, regardless of whether we maintain a good daily skin routine in the mornings and evenings. 
Can these symptoms be reversed?
Fortunately, many of the above conditions can be improved or eradicated by merely reducing alcohol consumption. For some people, this may be harder to achieve, as alcohol is widely considered a highly addictive substance. For tips and information regarding cutting back on or ditching alcohol the following sites and resources may help:
https://www.nhs.uk/live-well/alcohol-advice/tips-on-cutting-down-alcohol/
https://www.verywellmind.com/tips-for-cutting-back-on-drinking-69453
https://www.drinkaware.co.uk/advice/how-to-reduce-your-drinking/how-to-cut-down-on-alcohol-at-home
If you feel you may be developing a dependency on alcohol, it's always a good idea to reach out, and you should never be ashamed to seek help. Below are some organisations that help with alcohol addiction, alongside a selection of helplines:
https://www.nhs.uk/live-well/addiction-support/drug-addiction-getting-help/
https://alcoholchange.org.uk/help-and-support/get-help-now/about-alcohol-treatment
Alcoholics anonymous (UK) – Call +44-800-9177-650
Chat online with an advisor – https://www.drinkaware.co.uk/chat-with-an-advisor/
Confidential helpline – 0300 123 1110