15% OFF ELIXIR & ELIXIR BUNDLES
For super hydrated, crystal clear skin
(this weekend only)
"Absolutely love this product! I use the anti blemish cleanser and serum anyway but with this added into my skin care routine I have never felt so good! Super soft, hydrated, clear skin and within days of using it I had so many compliments saying how glowing my skin was! I can now go make-up free with confidence! 100% recommend."
Philippa, 47 Skin Customer

Save an additional 15% off our ALREADY discounted bundles
For best results, apply your Elixir followed by 47 Skin Serum
⭐⭐⭐⭐⭐
"Absolutely adore this product. The amazing results were instant and does exactly what it says in the description. Plumper, smoother, healthier skin. So much so that I wore this plus 47 skin serum + only a tiny bit of blusher on my wedding day - that was it! Healthy glow!"
-Brittany, 47 Skin Customer
________________________________
Start by using our Blue Clay Mask to revitalise and nourish your skin. Leave it on for 15 minutes before washing off.
Then apply 2-3 drops of Super Hydrating Elixir and massage it into your face. This contains HA and Niacinamide to give your skin maximum hydration and boost glow.
Follow this with 2-3 pumps of Age Defence Serum, which works by regenerating your skin cells to smooth fine lines and refresh your skin.
Use your Elixir and serum twice daily for firmer, smoother and brighter skin. Use your Blue Clay Mask 2-3 times a week.
You can get 15% off both your serum, Elixir and Blue Clay Mask with our Revive & Glow bundle.
Super Hydrating Elixir
⭐⭐⭐⭐⭐
"Such a good product! Skin feels refreshed and hydrated and keeps my spots at bay too - so happy with this."

-Fleur, 47 Skin customer

___________________________________
A unique lightweight Elixir, designed to enhance your skin's natural moisture, whilst preventing blemishes.
It contains an incredible 5% HA (Hyaluronic Acid), which naturally brings water to the surface of your skin, amplifying the effect of your serum and moisturiser, for plumper, lusciously hydrated skin. 
It also contains Niacinamide, one of the leading ingredients for brighter, glowing skin.

On top of that, it contains a dose of our signature ingredient, Silver Chitoderm™, which not only naturally kills bacteria and removes dead skin cells, but actually boosts collagen and helps fade scars.
It leaves your skin feeling hydrated, smoother and oh so glowy!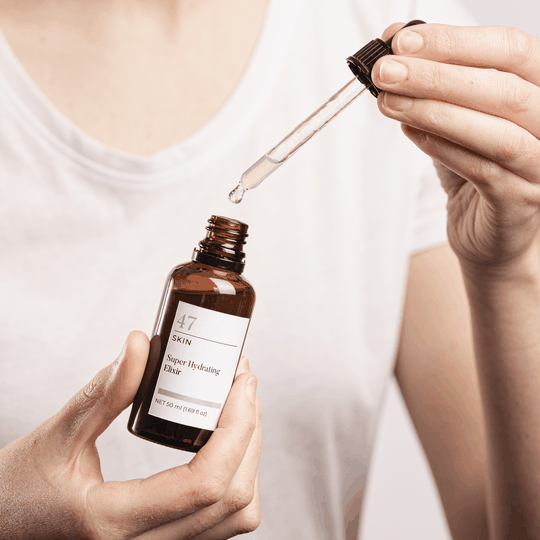 This discount cannot be combined with other discounts, unless otherwise stated.
47 Skin Ltd © Copyright. All rights reserved.