Why Are We Obsessed With
Squeezing Our Spots?
From the temptation of spotting a new whitehead on your chin, to the hype surrounding shows such as Dr Pimple Popper, the human race harbours a fascination with popping our spots. We know that it's not wise to pick at our skin, yet we often go against this common sense and proceed to pick and pop away anyway. Whether you love or loathe the idea of pimple popping, our captivation with this habit is undeniable, so it got me wondering if there is a reason behind it.
Popping our spots can lead to a number of problems, including more breakouts and scarring – it can even put you at risk of an infection. Popping and picking at spots tears the skin's surface and the pus that is often released as a result contains bacteria that can get into surrounding pores and cause more spots to appear. It is generally advised that only healthcare professionals and dermatologists should be the ones squeezing at our spots, as they generally carry it out safely and hygienically. 
This information is generally well known, yet many of us still choose to turn a blind eye to the advice and give into temptation. Why?
Well, as it turns out, there's actually a scientific explanation for our fixation with popping our spots. Pimple popping releases dopamine, a happy hormone that encourages feelings of pride and accomplishment. This is why many of us feel relief at the feel and sight of pimple popping. These feelings can become addictive, so if you feel as if you don't have the willpower to resist squeezing on your spots and blemishes, this is likely why. Repeatedly popping our spots can make us crave the feelings triggered by the dopamine boost in spite of the damage it could be doing to our skin.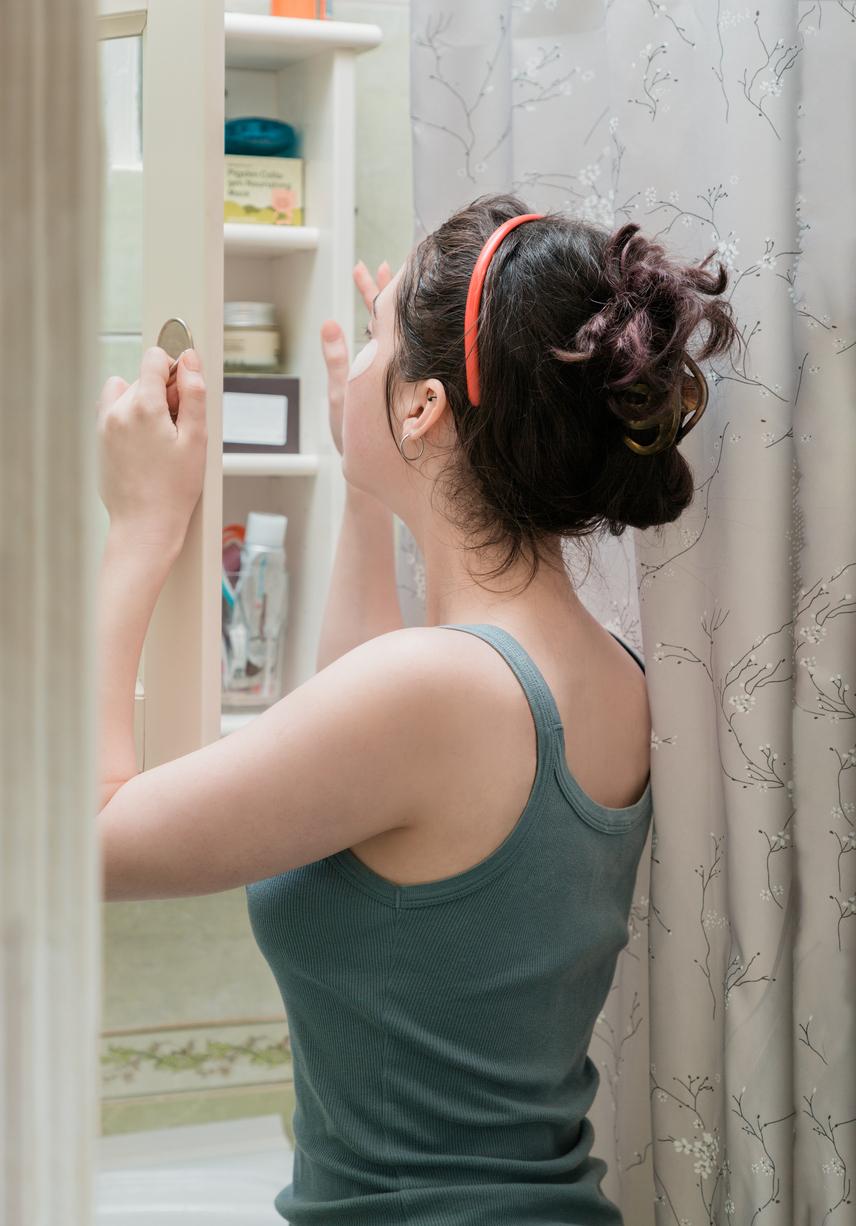 Speaking to Time magazine, Val Curtis, a professor and director of the environmental Health group at London school of Hygiene and Topical medicine also mentions the likely link between our fascination with picking at our skin and our human survival instincts. "Our ancestors who went around eating rotten food or putting their fingers into other people's diseased lesions—they're not our ancestors because they're extinct," she said. "Squeamishness is a useful evolutionary adaptation because it keeps us from eating or touching things that could make us sick." She also relates it to a natural desire to explore, discover, and be stimulated. "We learn new skills by playing, or by trying stuff out to see how it works. When you go on a roller coaster, you're learning skills about experiencing fear and danger in a safe way. You're taking your emotions out for a ride and experimenting with them. It's good training for the real thing."
There are many things that may help deter us from giving in to temptation, such as avoiding mirrors, and seeing a dermatologist. People have also commented that watching shows such as Dr. Pimple Popper can provide a way for us to still experience the feelings of satisfaction without tearing away at our own skin. Speaking on this, psychologist and mental health expert Roseanne Capana-Hodge said "Watching pimple-popping videos can stimulate a range of emotions and sensations in people, including arousal, love of the grotesque, disgust, shame, and voyeurism. It's sort of like watching a runaway train; you can't peel your eyes away from the drama because it is a rush of dopamine."
As someone who is all too familiar with the urge to squeeze a newly sprouted whitehead, I was interested and somewhat relieved to find that there is an actual reason behind these temptations other than mere lack of willpower. There are many things we can do to avoid breakouts, including maintaining an effective daily skin routine and – yup – NOT popping our spots. So, as much as I may miss the satisfaction that comes from giving in, I'm definitely going to put more effort into resisting messing with and picking at my spots going forward.