The Alarming Ways in Which Grief Can Affect Your Skin
Grief can, without a doubt, be considered one of the most unpleasant emotions that it is possible to experience. Whether it be due to the loss of a loved one, pet, the end of a significant era in your life, or a bittersweet memory of an event or place in the past, the emotional and physical symptoms of grief can be devastating, and sometimes even debilitating. 
Something that we perhaps won't associate with grief however is the impact it has on our skin. In this blog post we look at a first hand account of grief and loss, and examine opinions from medical workers, regarding what happens to our bodies physically during the grieving process.
Psychotherapist Amanda Falkson spoke of how her clients' experiences regularly transcended the mere emotional, saying "Manifesting physical pain isn't unusual, nor are skin or respiratory issues. The skin is the largest organ of the body. When we are anguished, in pain and stressed, skin issues can erupt. I've noticed skin issues in people particularly when they suppress their emotions."
The skin can be negatively affected by grief due to a number of factors. Sometimes, if we are undergoing a period of depression (which, though not a symptom nor an inevitability when it comes to grief, can sometimes arise as a complication resulting from it), we tend to neglect our physical health, eating foods with low nutritional value, or avoiding food altogether, and failing to take time out for self-care, meaning our hygiene and skincare routine may suffer as a result. These behaviours can have a detrimental impact on our skin, as we forget to take measures that we usually would to prevent breakouts.
This is a sentiment shared by Hafsa Issa-Salwe, facialist and co-founder of health and beauty clinic Botanical Mission, who reminds us when speaking to Stylist magazine that "it's not uncommon for grief to take someone away from their daily activities, and that includes their skincare routine."
"If you're not removing make-up and the day's grime or you're not maintaining the use of any skincare product that you're using to address concerns such as acne, then your skin may break out, which in turn can bring on more stress."
In addition to this, if we try to cope with our grief using unhealthy methods such as avoidance, and fail to process the emotional trauma that we are experiencing, this can negatively affect our physical health in multiple ways. Margaret Stroebe, PhD, a bereavement researcher and professor of clinical psychology at Utrecht University, mentions how research has recently shed light on many of "the cognitive and emotional processes underlying complications in grieving, particularly rumination", and how this rumination and avoidance can interfere with the body and mind's healing process. Efforts to avoid reality during the grieving process can prolong not only the trauma of grief but also the physical symptoms that come with it, such as fatigue, a weakened immune system, and increased inflammation, which in turn can impact your skin's health and appearance.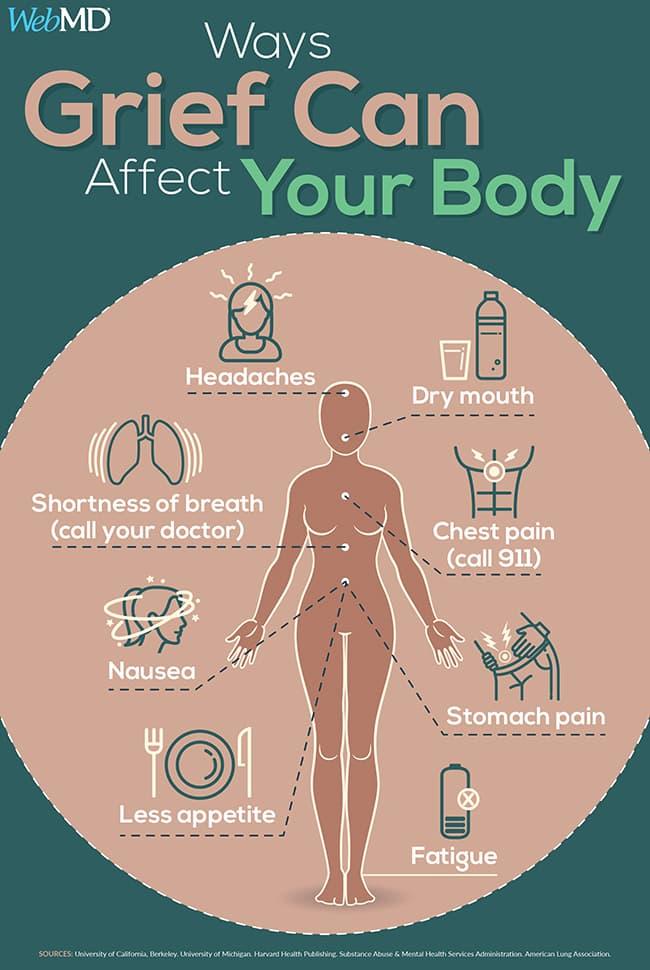 First-hand experiences with grief affecting the skin
Speaking in Stylist magazine about how losing her Grandma affected her physically, Zeynab Mohammed claimed "One of the more peculiar ways my grief manifested was dry skin. And I'm talking dryness everywhere: my face, my body and hair had gone from oily, verging on greasy, to desert dry out of the blue. It was as if all the hydration had been zapped out of my body. What was even odder was that this happened in the heat of summer. So, after several bouts of heatwaves, I set out to figure out what was happening with my skin."
Dr Raj Arora, GP and aesthetics doctor at Foreo skincare, commented on Zeynab's experience and how it is not an uncommon side effect of grief, explaining that "The human body releases the hormone cortisol in reaction to stress. Cortisol is a catabolic hormone which breaks down tissue and, in excess, can lead to collagen breakdown and accelerated ageing."
"High cortisol levels prompt the skin's sebaceous glands to release more sebum. This in turn results in clogged pores, inflammation and an increase in bacteria leading to acne and breakouts. Also, increased stress and cortisol production have been linked to barrier dysfunction, triggering dry, inflamed skin or exacerbating existing chronic skin conditions."
For more on Zeynab's experience, read her article here.
How can we cope with grief?
Grief is not only a powerful emotion, but also a lengthy process, with a lot of ups and downs. The path to recovering from loss can be a rocky one, and sometimes the overwhelming nature of grief can make it seem like there's no light at the end of the tunnel.
Nevertheless, there are ways in which we can try and make the process more bearable for ourselves, thereby potentially easing some of the accompanying symptoms. Though the thought of finding ways to numb our pain, either through throwing ourselves into work, or more dangerously resorting to mind-altering substances such as drugs and alcohol, may seem appealing at the time, they only delay the inevitability of grief, and in some ways may even prolong the painful process. It's important to let ourselves feel the grief, and permit our minds to process what is happening to us. 
Amanda Falkson advises, "Allow yourself to have your tears if they want to come. If you feel angry then find somewhere where you won't be overheard and have a good shout. Take the time you need to grieve. Don't isolate yourself. Don't bottle things up – there's no prize for being stoic. If you need to talk don't worry about being a burden on friends, they too will need your support one day – this time it's your turn. Talk about the person you have lost, it's an important part of letting go. See if there's a bereavement service in your area, ask your GP if they have a counselling service or consider seeing a counsellor privately. If you are a person of faith, spiritual counselling may be on offer through your place of worship."
For more information on how to deal with grief, visit your local or national health service website, e.g. https://www.nhs.uk/mental-health/feelings-symptoms-behaviours/feelings-and-symptoms/grief-bereavement-loss/.
There are also many resources available for when it feels like you can't manage your grief alone, such as the below resources. 
Cruse bereavement support – 0808 808 1677.
Mind's info line – 0300 123 3393.
At a Loss (for bereavement services and counselling) – talk to a counsellor online.
Bereaved through Alcohol and Drugs (BEAD) – for information/resources regarding losing a loved one to Alcohol or Drugs.
If you are feeling unsafe within yourself, access here to discover your local NHS mental health helplines for urgent cases (UK only) - https://www.nhs.uk/service-search/mental-health/find-an-urgent-mental-health-helpline.