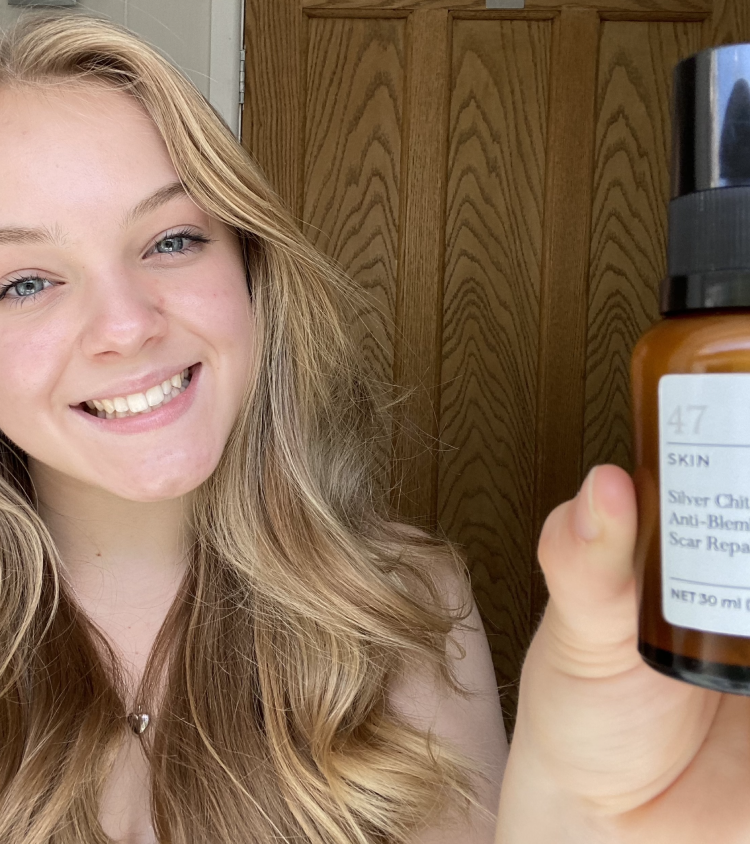 Tired of acne treatments that don't work?
Formula 47- Unique and clinically proven formula that removes blemishes and heals skin.
from only £29
Our formula 47 serum is the only product in the world to contain Silver Chitoderm, a new discovery that's proven to kill 100% of bacteria, remove acne in just under a month and heal your skin. This gentle yet powerful formula provides incredible, lasting results for skin that you'll love!
100% Money Back Guarantee on all purchases!
"I stumbled across your brand and I could not believe the difference after just a week from the anti-blemish and scar serum. My results have only continued to get better - and I cannot believe the results. Not only have my breakouts almost stopped but the scarring is visibly reduced significantly. Thank you so much for existing as a brand, I will never buy any other skincare again."
ELLIE. Verified Buyer
You may have seen us featured in…
Formula 47 was developed by leading scientists - and it gives you the healthy, clear skin you've always wanted.
Eliminate acne, heal scars and gently moisturise your skin in one simple serum.
Tired of having blemishes or scars? Wish you had clean, clear skin that stayed that way? We were in your place, too. Formula 47 is the quick, easy and proven way to get skin you'll love. The silver in the serum kills 100% of bacteria, while the Chitoderm regenerates your skin cells at a much faster rate, fading dark marks and healing scars.

It can also help reduce wrinkles as it increases collagen, smooths fine lines and helps plump your complexion. It's gentle on the skin yet provides the powerful anti-blemish results you've been looking for. The serum is moisturising and won't dry out your skin like many other acne treatments. Instead, it leaves your skin firm, soft and nourished.

"My skin is so much clearer, the serum smells lovely and it makes my skin feel so smooth. I use this on a daily basis all over my face and love it. It is a must have for scars and blemishes!"
ESTHER. Verified Buyer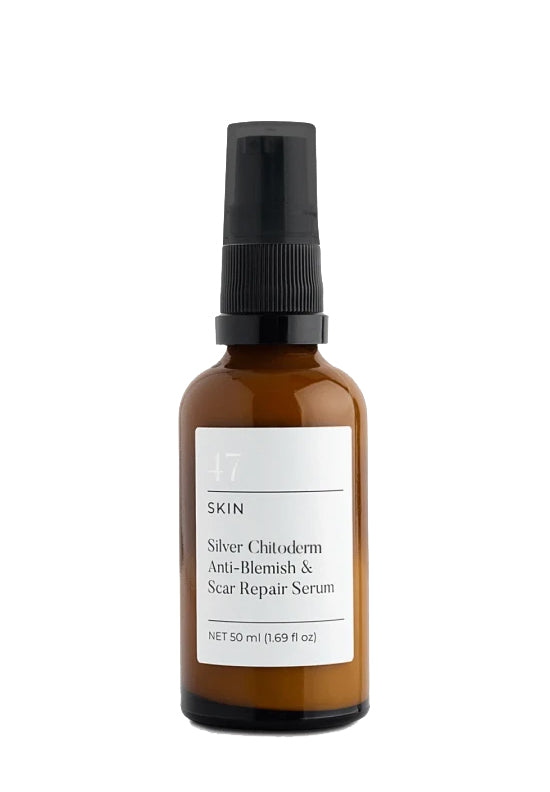 You're fed up - and we get it.
From acne and scars to clear, glowing skin in just 1 month!
We have a solution. A serum that contains a new and incredibly powerful ingredient,
which can heal acne, fade scars and leave your skin clear, hydrated and glowing.
It worked for our founder,
leading him to create 47 Skin
I know what you're going through. Having lots of acne (and even scars) on your face is not fun- I know this because I was there too. Let me tell you my story…

I battled acne for years. I thought it would go away when I reached adulthood but it kept on persisting. Some days I didn't even want to leave the house because I was embarrassed about my skin and having blemishes in the most obvious spots. I tried every acne treatment out there and nothing worked well for me. Some would dry out my face, some caused my skin to peel, some even made my acne worse. It's safe to say I felt pretty hopeless at times.

One day my grandmother sent me this "special face treatment" she found. It didn't have any label and it wasn't from any company. I was skeptical so I didn't even try it for a couple weeks, I just set it aside until one day I gave it a go. What surprised me was that my skin felt better after the first use and after just a couple weeks my skin was almost completely clear. My friends and family began noticing and asking me what I had done. It felt great!

I knew I wanted to share this with other people, so I had to find out who made it. After a long search and a few phone calls, I found the scientist who developed it. He mixed these two ingredients (Silver and Chitoderm) and bonded them together in a way that no one else had, and found it had incredible anti-bacterial and healing properties. He knew he had something, but he didn't know what.

He told me while testing it for different uses, he and others who handled it noticed their skin became smoother and more hydrated. Any inflammation or cuts and scars healed faster.

So they decided to test it in skin care. And the rest is history.

He and I teamed up in 2018 and started 47 Skin, and it's grown from there. 47 Skin is the only place in the world where you can get products containing Silver Chitoderm.

My mission is to give you the same results I got and to make you feel proud of your skin!
HOW IT WORKS
The only product in the world to contain Silver Chitoderm
Silver Chitoderm or 'Formula 47' is the unique formula that transformed our founder's skin and caused the creation of 47 Skin.
It's made when you combine Silver and Chitoderm. It's clinically proven to kill 100% of bacteria, reduce inflammation and cause your skin cells to regenerate, whilst being gentle and hydrating on your skin.
This makes it an extremely powerful and effective ingredient in treating acne, scarring and redness, without drying out your skin.
Dr. Chopra, dermatologist at London Dermatology Centre
Here's what Silver Chitoderm can do for you:
Reduce acne from the first application
Prevent future breakouts
Reduce inflammation and heal skin
Fade hyperpigmentation
Heal and reduce the appearance of scars (old and new)
Leave all skin types smooth, firm and hydrated
Can help to reduce the appearance of Rosacea and Eczema
THE SCIENCE BEHIND Silver Chitoderm
Recommended by Dermatologists,
gentle and hydrating on your skin.
How does it reduce scarring?
The active properties in the Chitoderm decreases the production of melanin, a pigment that gives scars their colour. It also encourages your skin to shed older skin cells and produce new ones at a much faster rate.
This allows for a brighter, more even complexion.
How does it heal & prevent breakouts?
For centuries, silver has been used around the world as an antiseptic and anti-inflammatory, but what makes our unique formula so special is the unique blend of Silver with Chitoderm, making it muco adhesive.
This means it delivers silver straight into the root of the bacterium and ultimately destroys it, making it a key ingredient in healing acne and inflamed skin, while preventing further breakouts.
How does it clear acne?
Silver has been used around the world as an antiseptic (helps prevent infection) and to reduce inflammation, but what makes our formula so special is it's synergy with Chitoderm, making it muco adhesive. This means it delivers Silver right to the source of the bacteria, ultimately destroying it, making it a key ingredient in healing acne and inflamed skin, as well as preventing future breakouts.
DON'T JUST TAKE OUR WORD FOR IT..
Join the thousands of
people whose lives have
changed thanks to 47 Skin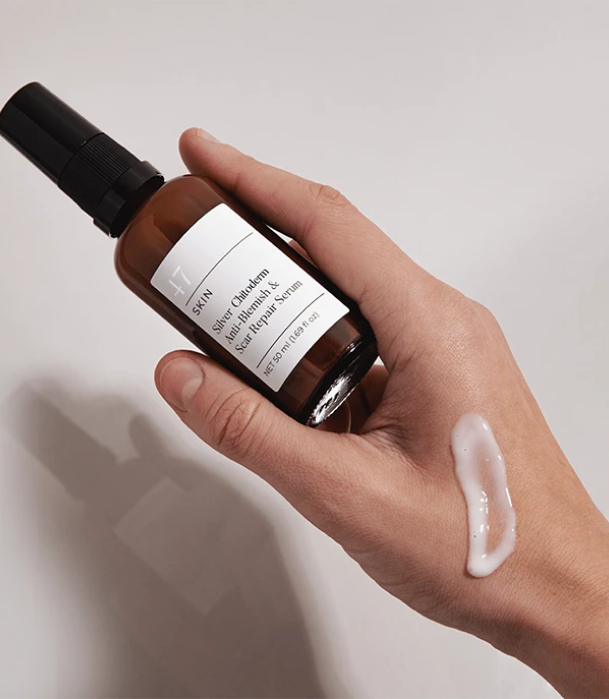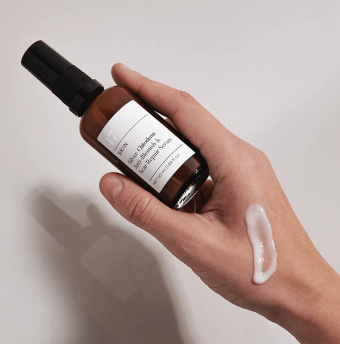 START SEEING A DIFFERENCE FROM FIRST USE
Get clear, glowing skin that you'll LOVE!

100%
NATURAL

CRUELTY
FREE

MADE IN
THE UK
Massage your serum into your face and neck twice daily, after cleansing, for supple, clearer skin. If you have other areas where blemishes/ scars occur, such as your back or chest, apply it in the same way.
The natural ingredients mean the serum is hydrating and will leave your skin soft and moisturised, but it can be used under moisturiser if you need a little extra.
It's also a perfect primer under make-up, as it creates an
anti-bacterial shield over your skin, protecting it from breakouts under your foundation. For optimum results, use after washing your face with our Anti-Blemish & Scar Repair Cleanser.
CUSTOMER REVIEWS
What are people saying about our
Anti-Blemish & Scar Repair Serum
still not sure?
Frequently Asked Questions
Silver Chitoderm is our unique formula that synergistically bonds Silver with Chitoderm. It's clinically proven to kill 100% of bacteria, reduce inflammation and regenerate your skin cells, all while being gentle and hydrating. This is an extremely powerful and effective formula for treating acne, scarring and redness without drying out your skin.
We have formulated our products to be effective yet gentle on your skin. That said, we recommend sharing the ingredients in our products with your doctor or dermatologist, and then applying a small amount to your wrist or behind your knee to make sure your skin loves the product before applying it to your face. Chitoderm is derived from shellfish and while it's deproteinized and not allergenic per se, it's best to consult with your doctor to make sure it's suitable for you.
Absolutely, we would love to. Drop us a message at customercare@47skin.com. Alternatively, take our free skin assessment here which will provide you with a personalised recommendation.
Nano Silver is a type of silver that can cause cytotoxicity from accumulated use. Our product do NOT contain Nano Silver. Our Silver is attached to the Chitosan molecule that prevents this toxicity from happening. We can assure you that our products are safe for long term use.
Standard shipping in the UK is 4.49 with a delivery within 48hrs of dispatch, and priority is 6.95 with a delivery within 24hrs of dispatch. We also ship internationally at a flat rate of 5.95 but please note there may be customs fees with your local government- those possible fees go only to them and vary by country. Also, please know that with many brick and mortar businesses closing recently, more people are shopping online, causing longer delivery times. The maximum estimate for delivery is when you will most likely receive your product. We will email you your tracking number as soon as your products are dispatched. This is usually within 1-4 days of placing an order.
We work closely with the largest payment providers to make this as simple as possible. Subject to completion of the refund form, refunds should appear on your bank statement within 7-10 days.
Anti-Blemish & Scar Repair Serum
from only £29
In stock now!
Our #1 best-selling serum is one of the only products in the world to contain our unique formula of Silver and Chitoderm. The powerful combination of these two ingredients gives incredible, lasting results.

"The spots have dried up, my skin is smoother, and I am going out without make-up. I'm confident 47 Skin is the answer and will now use no other skin products."
JAN. Verified Buyer