15% OFF
Silver Masks



T H I S  W E E K E N D 
O N L Y
'Best face mask I've ever used! After the first use, my skin looked visibly younger, softer, fuller and glowing. I couldn't recommend it enough."
-Mel S, 47 Skin Customer
Anti-Blemish & Scar Repair Intensive Treatment Silver Mask
⭐⭐⭐⭐⭐
"I've suffered from minor acne scars under my mouth since being a teenager. I still had outbreaks and wanted a product that both prevented outbreaks, healed acne scars and reduced spots and redness on the skin. I can say that this is the best skin product I have ever come across. It peels off in one motion and leaves my skin moisturised and visibly reduces outbreaks. I can see my acne scars disappearing. I would highly recommend this product"
                      - Harry, 47 Skin Customer 
_____________________________________
Our Anti-Blemish & Scar Repair Silver Intensive Mask is made using our unique 'Formula 47'. This contains Silver Chitoderm which kills bacteria and naturally reduces inflammation, to help calm existing breakouts and prevent further blemishes.
Designed in the form of a peel-off mask, this means the ingredients can penetrate deeper into your skin, for a super intense dose.
It's ideal for when your skin needs a bit of a boost or you're feeling a breakout coming on.
Simply apply a thin layer and leave on for 30 minutes. Then peel off to reveal clearer, brighter skin.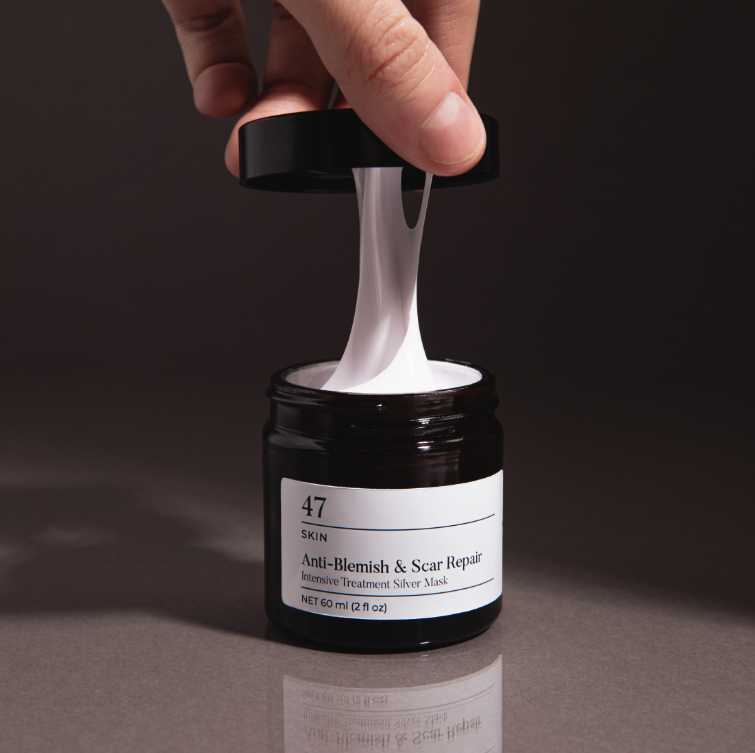 My favourite face mask EVER!
⭐⭐⭐⭐⭐
"I genuinely never write reviews as I don't feel that strongly about the products I end up buying (always gutting), but having used the anti blemish serum and mask for 3 weeks now, I can honestly say I can see a clear improvement in the pigmentation and blemishes I have along my jawline and on my neck from mild but recurrent acne.
The areas of my face that don't get acne but are still a bit pigmented here and there as I clearly don't have airbrushed skin, are honestly now moving towards the 'flawless' to the untrained eye. Everything just looks and feels smoother."
-Briseis, 47 Skin Customer
________________________________
To get the most out of your silver mask, we recommend following a silver mask treatment by applying either Regenerative or Anti-Blemish & Scar Repair Serum.
You can get 15% off both your serum and mask with our 2-step bundles.
GET 15% OFF OUR ALREADY DISCOUNTED BUNDLE:
This discount cannot be combined with other discounts, unless otherwise stated.
47 Skin Ltd © Copyright. All rights reserved.